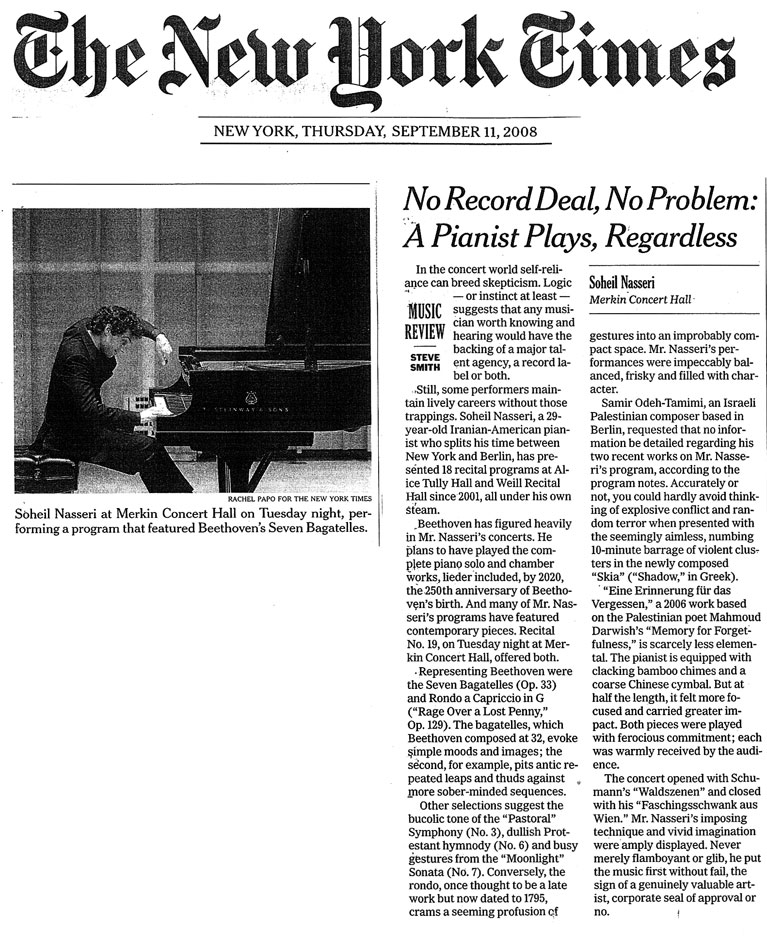 No Record Deal, No Problem: A Pianist Plays, Regardless
Steve Smith, The New York Times
In the concert world self-reliance can breed skepticism. Logic — or instinct at least — suggests that any musician worth knowing and hearing would have the backing of a major talent agency, a record label or both.
Still, some performers maintain lively careers without those trappings. Soheil Nasseri, a 29-year-old Iranian-American pianist who splits his time between New York and Berlin, has presented 18 recital programs at Alice Tully Hall and Weill Recital Hall since 2001, all under his own steam.
Beethoven has figured heavily in Mr. Nasseri's concerts. He plans to have played the complete piano solo and chamber works, lieder included, by 2020, the 250th anniversary of Beethoven's birth. And many of Mr. Nasseri's programs have featured contemporary pieces. Recital No. 19, on Tuesday night at Merkin Concert Hall, offered both.
Representing Beethoven were the Seven Bagatelles (Op. 33) and Rondo a Capriccio in G ("Rage Over a Lost Penny," Op. 129). The bagatelles, which Beethoven composed at 32, evoke simple moods and images; the second, for example, pits antic repeated leaps and thuds against more sober-minded sequences.
Other selections suggest the bucolic tone of the "Pastoral" Symphony (No. 3), dullish Protestant hymnody (No. 6) and busy gestures from the "Moonlight" Sonata (No. 7). Conversely, the rondo, once thought to be a late work but now dated to 1795, crams a seeming profusion of gestures into an improbably compact space. Mr. Nasseri's performances were impeccably balanced, frisky and filled with character.
Samir Odeh-Tamimi, an Israeli Palestinian composer based in Berlin, requested that no information be detailed regarding his two recent works on Mr. Nasseri's program, according to the program notes. Accurately or not, you could hardly avoid thinking of explosive conflict and random terror when presented with the seemingly aimless, numbing 10-minute barrage of violent clusters in the newly composed "Skiá" ("Shadow," in Greek).
"Eine Erinnerung für das Vergessen," a 2006 work based on the Palestinian poet Mahmoud Darwish's "Memory for Forgetfulness," is scarcely less elemental. The pianist is equipped with clacking bamboo chimes and a coarse Chinese cymbal. But at half the length, it felt more focused and carried greater impact. Both pieces were played with ferocious commitment; each was warmly received by the audience.
The concert opened with Schumann's "Waldszenen" and closed with his "Faschingsschwank aus Wien." Mr. Nasseri's imposing technique and vivid imagination were amply displayed. Never merely flamboyant or glib, he put the music first without fail, the sign of a genuinely valuable artist, corporate seal of approval or no.