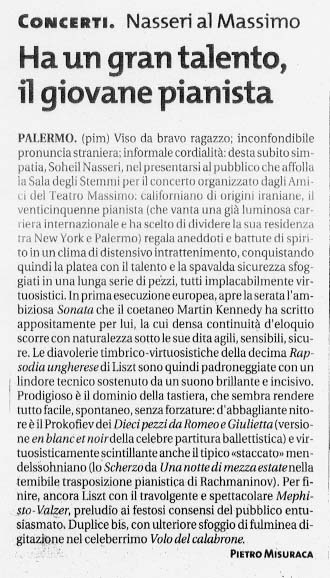 He Has A Great Talent, the Young Pianist
Pietro Misuraca, Giornale di Sicilia
The face of a nice guy; an unmistakably foreign accent; informal cordiality: one couldn't help but like Soheil Nasseri immediately as he introduced himself to the audience that packed the Sala degli Stemmi for the concert organized by the Friends of Teatro Massimo. A California native of Iranian origin, the 25-year-old pianist (who already boasts a luminous international career and has chosen to divide his residences between New York and Palermo) told anecdotes and quipped witticisms in a relaxed entertaining climate, thereby conquering his audience with his talent and the bold security he flaunted in a long series of pieces, all relentlessly virtuosic.
The evening opened with the European premiere of an ambitious Sonata that the similarly-aged Martin Kennedy wrote specifically for Nasseri. The Sonata is dense with a continuity of eloquence that flows naturally under Nasseri's agile, sensitive, and secure fingers. The virtuosic and timbric deviltries of Liszt's tenth Hungarian Rhapsody were hence commanded with a pristine technique supported by a sparkling and incisive sound. The domination of the keyboard was so prodigious that it seemed to render everything easy, spontaneous, and without effort. The dazzling brightness of Prokofiev's Ten Pieces from Romeo and Juliet (in the 'en blanc et noir' version from the celebrated ballet score) was virtuosically sparkling as was the typically Mendelssohnian "stacatto" (the Scherzo from the fear-inducing piano transcription by Rachmaninoff).
To finish, more Liszt: the overwhelming and spectacular Mephisto Waltz prefaced the joyous consensus of the enthusiastic audience. There were also two encores, with further display of lightning-like fingers in the famous Flight of the Bumble Bee.