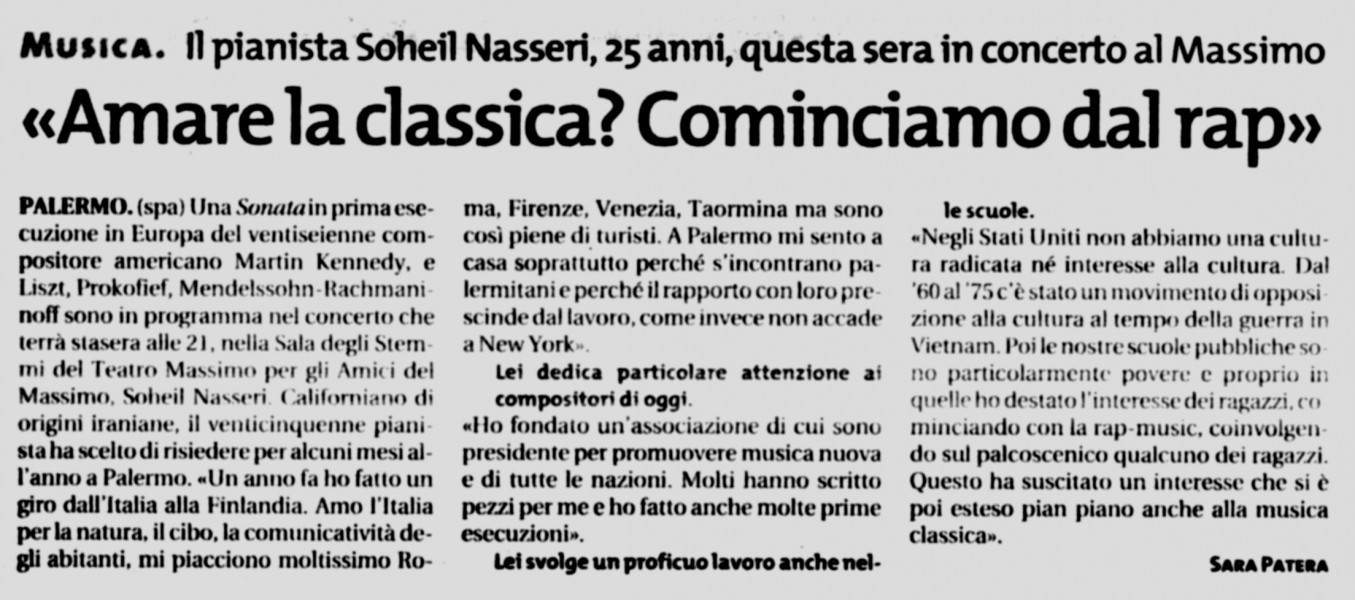 English translation:
"Love the classics? Let's start from rap".
The pianist Soheil Nasseri, 25-years-old,
in concert this evening at Teatro Massimo
Sara Patera, GIORNALE DI SICILIA
The European premiere of a Sonata by the 26-year-old American composer Martin Kennedy, Liszt, Prokofiev, and Mendelssohn-Rachmaninoff are on the program of the concert that will be held tonight at 9 PM in the Sala degli Stemmi of Teatro Massimo for the Friends of Teatro Massimo. Soheil Nasseri. A Californian of Iranian origin, the 25-year-old pianist has decided to live for several months a year in Palermo. "A year ago I traveled through Europe from Italy to Finland. I love Italy for the nature, the food, the welcoming spirit of the people… I really love Rome, Florence, Venice, and Taormina but they are packed with tourists. I feel at home in Palermo especially because instead of foreigners one meets people from Palermo, and also because friendships are not linked to work, which doesn't happen very often in New York."
You dedicate particular attention to contemporary composers.
"I founded an association of which I am the president to promote new music and of all countries. Many composers have written pieces for me and I have given many world premieres."

You carry out a beneficial program also in the schools.
"In the United States we don't have a rooted culture nor interest in the culture. From 1960 until 1975 there was a counter-culture movement especially at the time of the war in Vietnam. Plus, our public schools are particularly needy and in especially those schools I try to awaken an interest in classical music among the students starting by playing rap music, involving one of the kids by bringing him onstage. This has brought about an interest that can with time develop into something more significant."