for English translation scroll down.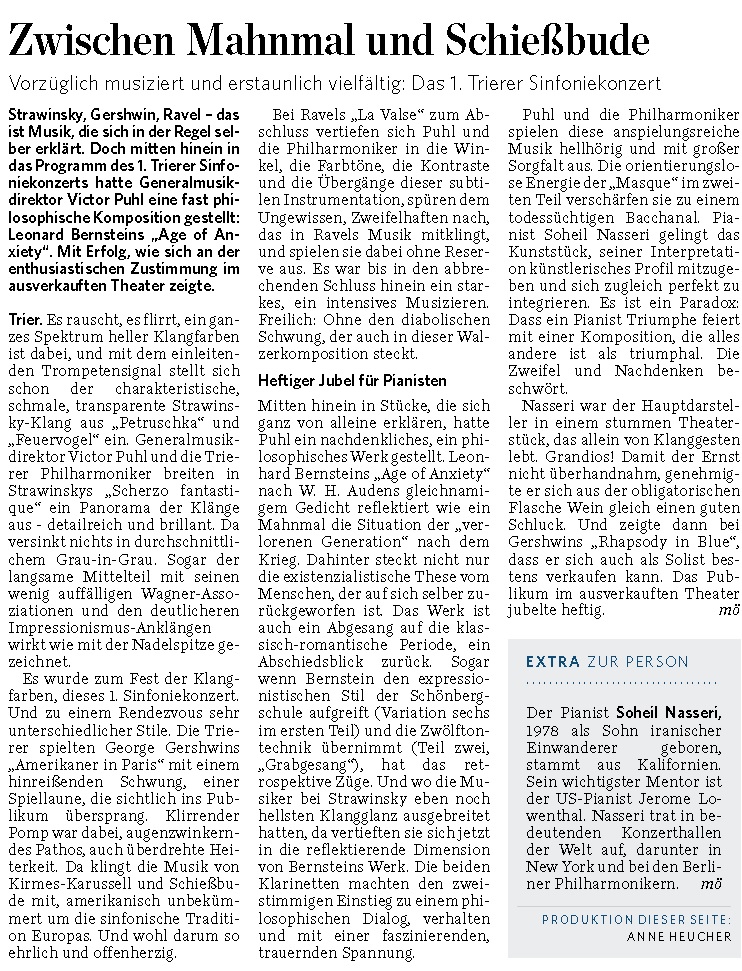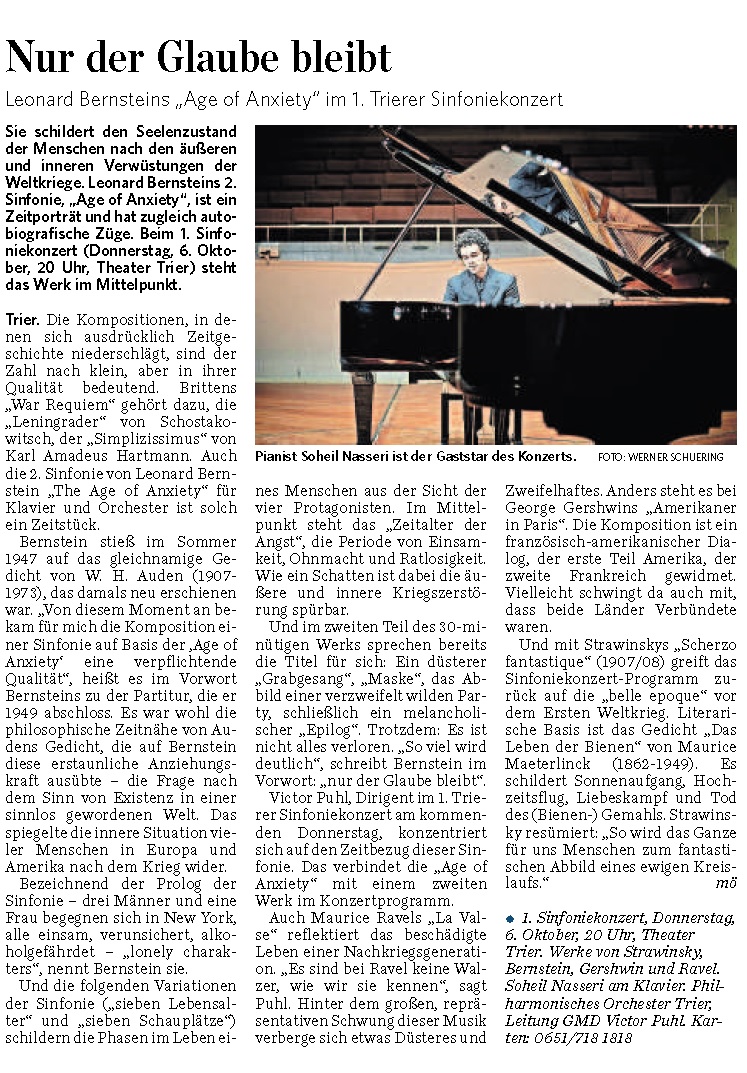 Trierischer Volksfreund
October 8, 2016.
Stravinsky, Gershwin, Ravel–music that generally speaks for itself.  Couched in between these straight-forward musical works, for the Trier Philharmonic's season opening concert the conductor Victor Puhl chose an introspective and philosophical piece:  Leonard Bernstein's "Age of Anxiety"–based on the poem of the same name by W.H. Auden–expresses the mood of the post-war 'lost generation' like a memorial.  The spirit of the work is not only an existential probe of the ethos of persons who can only rely on themselves.  It is also an ode to the classical-romantic period–a farewell look back.   Even when Bernstein picks up the expressionist style of the Schönberg School (Variation Six in Part 1) and 12-tone technique ('The Dirge' in Part 2), there is still a retrospective hue.  And whereas the musicians of the Philharmonic produced a bright and shining sound in the Stravinsky, in the Bernstein they descended down into the depths of dark introspection.  The clarinets made the two-voice opening a guarded, philosophical dialogue, with a fascinating, plaintive tension.
Mr. Puhl and the Philharmonic played this allusion-filled music keenly and with great attention to detail.  The chaotic energy of the "Masque" in Part 2 grew to the caliber of a suicidal bacchanal.  Pianist Soheil Nasseri succeeded at creating a distinctive artistic interpretation while at the same time perfectly integrating himself.  It is a paradox: Mr. Nasseri was able to triumph with a piece that was anything but triumphant.  It is exactly what these doubts and deep thoughts beg for.  Mr. Nasseri was the leading man in a silent theater piece that only lived through sound gestures.  Magnificent!
Perhaps to keep the serious mood from overwhelming the occasion, Mr. Nasseri permitted himself a hefty drink of wine directly from the bottle that was presented him onstage following the performance.   Then he proved in Gershwin's "Rhapsody in Blue" that he can sell himself in solo repertoire just as brilliantly. The audience in the sold-out theatre cheered ardently.