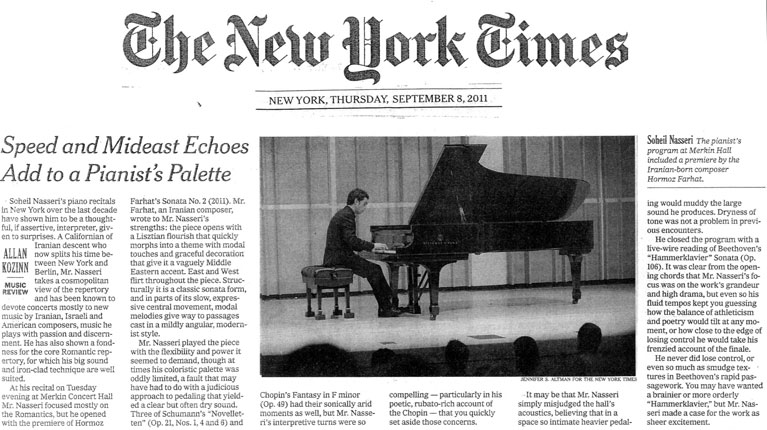 Speed and Mideast Echoes Add to a Pianist's Palette
Allan Kozinn, The New York Times
Soheil Nasseri's piano recitals in New York over the last decade have shown him to be a thoughtful, if assertive, interpreter, given to surprises. A Californian of Iranian descent who now splits his time between New York and Berlin, Mr. Nasseri takes a cosmopolitan view of the repertory and has been known to devote concerts mostly to new music by Iranian, Israeli and American composers, music he plays with passion and discernment. He has also shown a fondness for the core Romantic repertory, for which his big sound and iron-clad technique are well suited.
At his recital on Tuesday evening at Merkin Concert Hall Mr. Nasseri focused mostly on the Romantics, but he opened with the premiere of Hormoz Farhat's Sonata No. 2 (2011). Mr. Farhat, an Iranian composer, wrote to Mr. Nasseri's strengths: the piece opens with a Lisztian flourish that quickly morphs into a theme with modal touches and graceful decoration that give it a vaguely Middle Eastern accent. East and West flirt throughout the piece. Structurally it is a classic sonata form, and in parts of its slow, expressive central movement, modal melodies give way to passages cast in a mildly angular, modernist style.
Mr. Nasseri played the piece with the flexibility and power it seemed to demand, though at times his coloristic palette was oddly limited, a fault that may have had to do with a judicious approach to pedaling that yielded a clear but often dry sound. Three of Schumann's "Novelletten" (Op. 21, Nos. 1, 4 and 6) and Chopin's Fantasy in F minor (Op. 49) had their sonically arid moments as well, but Mr. Nasseri's interpretive turns were so compelling — particularly in his poetic, rubato-rich account of the Chopin — that you quickly set aside those concerns.
It may be that Mr. Nasseri simply misjudged the hall's acoustics, believing that in a space so intimate heavier pedaling would muddy the large sound he produces. Dryness of tone was not a problem in previous encounters.
He closed the program with a live-wire reading of Beethoven's "Hammerklavier" Sonata (Op. 106). It was clear from the opening chords that Mr. Nasseri's focus was on the work's grandeur and high drama, but even so his fluid tempos kept you guessing how the balance of athleticism and poetry would tilt at any moment, or how close to the edge of losing control he would take his frenzied account of the finale. He never did lose control, or even so much as smudge textures in Beethoven's rapid passagework. You may have wanted a brainier or more orderly "Hammerklavier," but Mr. Nasseri made a case for the work as sheer excitement.