English translation below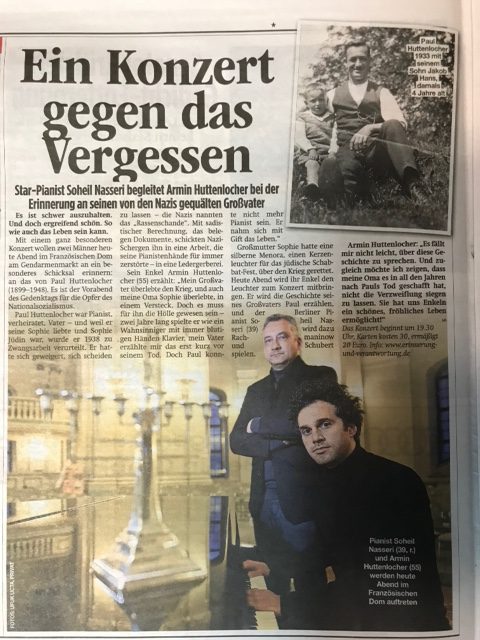 Memorial Day for National Socialist victims: A concert in the French
Cathedral to oppose Forgetting
Piano star Soheil Nasseri accompanies Armin Huttenlocher in the memory
of his grandfather, tortured by Nazis.
It is hard to take.  And yet grippingly beautiful.  As life can be.
On Friday evening at Gendarmenmarkt's French Cathedral, two men would
like to remind us of a particularly special history- that of Paul
Huttenlocher (1899-1948).  It is the evening before Memorial Day for
National Socialist victims.
Paul Huttenlocher was a pianist, married, a father.  And because he
loved his Sophie and Sophie was Jewish, in 1938 he was sentenced to
forced labor.  He had refused to divorce – the Nazis called that
"Rassenschande" (literal translation: Racial Disgrace, dictionary:
"Nazi term for sexual relations with a non-Aryan"). With sadistic
calculation, according to documents, Nazi thugs sent him to a
workplace that would forever destroy his pianist hands – a leather
tannery.
His grandson Armin Huttenlocher (55) says: "My grandfather survived
the war, and my grandmother Sophie also survived – in a hiding place.
But it must have been hell for him – for two years he played the piano
like a crazy person with ever bloody hands.  My father told me this
just before he died.  But Paul couldn't be a pianist anymore – and he
took his own life with poison."
Photo caption: Paul Huttenlocher in 1933 with his son Jakob Hans, then
4 years old.
Grandma Sophie managed to keep a silver menora – a candleholder for
the Jewish Shabbat—throughout the war.  On Friday her grandson will
bring it to the concert.  And he will tell the story of his
grandfather Paul and the Berliner pianist Soheil Nasseri (39) will
play Rachmaninoff and Schubert.
Armin Huttenlocher: "It is difficult for me to talk about this story.
Yet at the same time I would like to show that in all the years after
Paul's death my grandmother did not give into desperation.  She made a
beautiful, happy life for us grandchildren possible!"