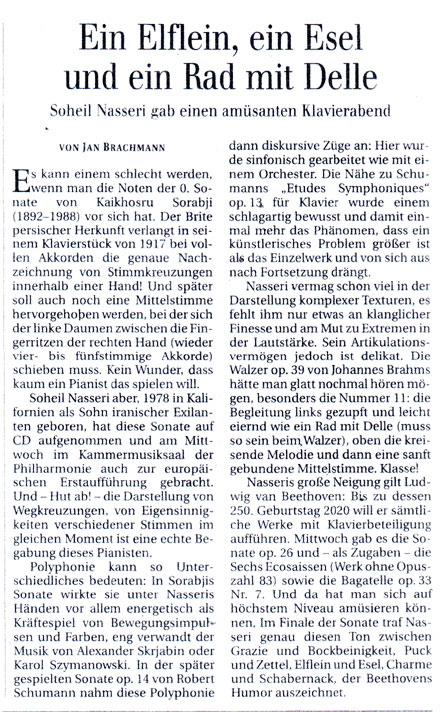 A Sprite, an Ass and a Dented Wheel
Soheil Nasseri gives an enjoyable piano recital
-Jan Brachmann, Berliner Zeitung
The sight of the score of Kaikhosru Sorabji's (1892-1988) Sonata No. 0 can make one feel queasy. In his 1917 piano work, the British composer of Persian origin demands that full chords requiring each finger in each hand cross directly over each other while continuing in their contrary, overlapping directions! And later on, yet another voice — in the middle-range — must be brought out as well: the left thumb must be squeezed between the fingers of the right hand, which again contains four-to-five-voice chords. No wonder hardly any pianist wants to play the piece.
But Soheil Nasseri, born in 1978 in California to Iranian parents, has recorded this sonata on CD, and on Wednesday in the Chamber Music Hall of the Berlin Philharmonie he gave its European premiere. And -hats off to him! – the command of complex voice-leading and the ability to simultaneously delineate many different lines is a real talent of this pianist.
Polyphony can mean many different things. In Sorabji's Sonata, in Nasseri's hands, it is above all an energetic power-play of movement and color, closely related to the music of Alexander Scriabin or Karol Szymanowski. But the polyphony took on discursive traits in the Sonata, Op. 14, by Robert Schumann, played later in the program. Here, Nasseri played symphonically, as if with an orchestra. The closeness to Schumann's Symphonic Etudes for piano, Op. 13, became suddenly most apparent, and with it yet again the phenomenon that an artistic problem is larger than a single work, continually demanding re-examination.
Nasseri is clearly very adept in the handling of complex textures, though he lacks a certain degree of tonal finesse and the courage to play extremely loud. His range of articulation, however, is exquisite. One would have even liked to listen to the Brahms Waltzes, Op. 39 all over again– especially No. 11: the left-hand accompaniment plucked and slightly hobbling along like a dented wheel (as waltzes should be); above, the circling melody and gently-woven-in middle voice. Fantastic!
Nasseri's greatest affection is for Ludwig van Beethoven: he wants to perform all Beethoven's works involving piano by the composer's 250th birthday in 2020. On Wednesday he performed the Sonata Op. 26 and – as encores – the Six Ecossaises (WoO 83) as well as the Bagatelle Op. 33, No. 7. Here we in the audience could not have possibly had more fun. In the finale of the Sonata, Nasseri captured that certain quality of elegance and recalcitrance, Puck and Bottom, sprite and ass, charm and mischief, which characterizes Beethoven's humor.