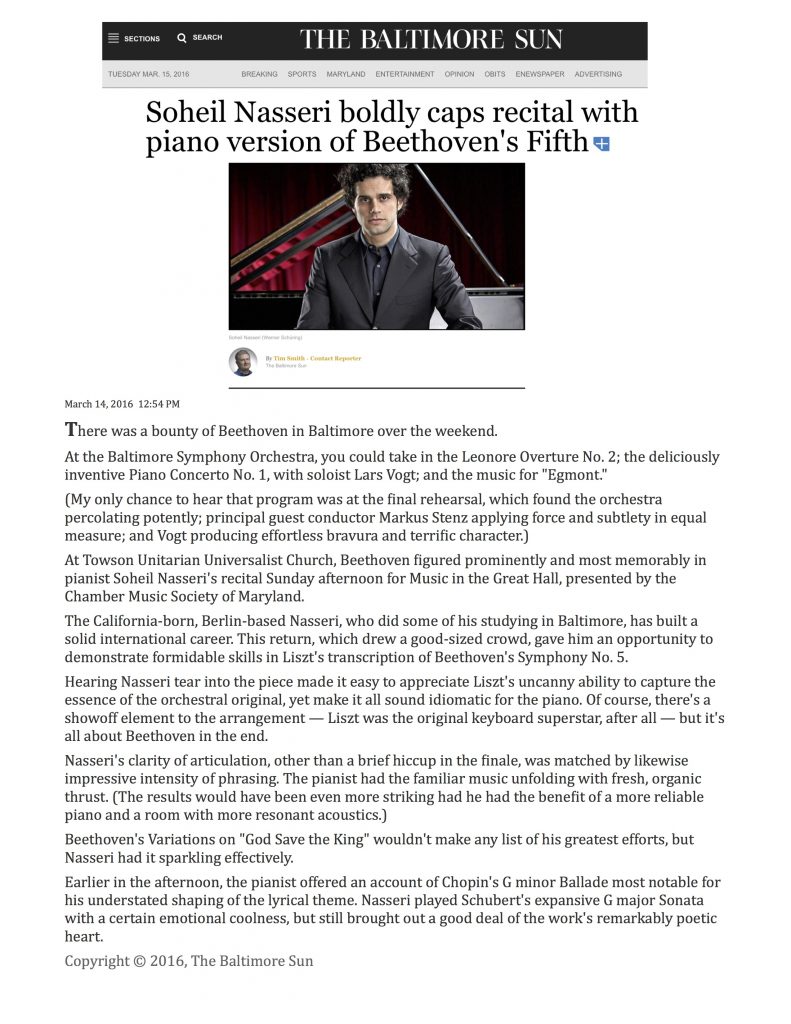 Nothing like fate pounding at the keys. Soheil Nasseri excels in the Liszt arrangement of Beethoven's Fifth.
By Tim Smith
There was a bounty of Beethoven in Baltimore over the weekend.
At the Baltimore Symphony Orchestra, you could take in the Leonore Overture No. 2; the deliciously inventive Piano Concerto No. 1, with soloist Lars Vogt; and the music for "Egmont."
(My only chance to hear that program was at the final rehearsal, which found the orchestra percolating potently; principal guest conductor Markus Stenz applying force and subtlety in equal measure; and Vogt producing effortless bravura and terrific character.)
At Towson Unitarian Universalist Church, Beethoven figured prominently and most memorably in pianist Soheil Nasseri's recital Sunday afternoon for Music in the Great Hall, presented by the Chamber Music Society of Maryland.
The California-born, Berlin-based Nasseri, who did some of his studying in Baltimore, has built a solid international career. This return, which drew a good-sized crowd, gave him an opportunity to demonstrate formidable skills in Liszt's transcription of Beethoven's Symphony No. 5.
Hearing Nasseri tear into the piece made it easy to appreciate Liszt's uncanny ability to capture the essence of the orchestral original, yet make it all sound idiomatic for the piano. Of course, there's a showoff element to the arrangement — Liszt was the original keyboard superstar, after all — but it's all about Beethoven in the end.
Nasseri's clarity of articulation, other than a brief hiccup in the finale, was matched by likewise impressive intensity of phrasing. The pianist had the familiar music unfolding with fresh, organic thrust. (The results would have been even more striking had he had the benefit of a more reliable piano and a room with more resonant acoustics.)
Beethoven's Variations on "God Save the King" wouldn't make any list of his greatest efforts, but Nasseri had it sparkling effectively.
Earlier in the afternoon, the pianist offered an account of Chopin's G minor Ballade most notable for his understated shaping of the lyrical theme. Nasseri played Schubert's expansive G major Sonata with a certain emotional coolness, but still brought out a good deal of the work's remarkably poetic heart.